Great work and some dynamic team building took place at the Global Kinetics Corporation sand sculpture event.
to see amazing photos of the sand castles use this link.
the logo created by Archisand created a great photo back drop.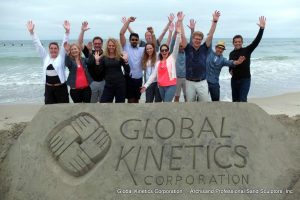 Add a unique touch to your next personal or corporate event with one of our custom built professional sand sculptures.  Leave your friends, colleagues and employees talking for years about the "wow factor" at your event.  With our experiential marketing skills we are able to help your corporate and team building with sand.
Let our team show you how sandcastle design is done.   At Archisand we don't need the beach.  We bring the sand to you!