Celebrating 82 years, the Great Long Beach Sand Castle contest. The longest running contest in the USA.
Created to help raise awareness and funds for the Long Beach Library Foundation.
to read an article in the OC Register use this link.
http://www.ocregister.com/articles/sand-631974-contest-beach.html
To see amazing  photos from the very cool sand sculpture, use this link.
https://www.flickr.com/photos/archisand1/sets/72157646207308789/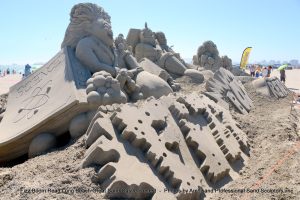 Add a unique touch to your next personal or corporate event with one of our custom built professional sand sculptures.  Leave your friends, colleagues and employees talking for years about the "wow factor" at your event.  With our experiential marketing skills we are able to help your corporate and team building with sand.
Let our team show you how sandcastle design is done.   At Archisand we don't need the beach.  We bring the sand to you!