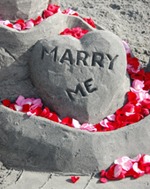 I love that feeling of walking into an event and taking it all in.  The way the room is lit, the colors on the tables, the flowers and centerpieces!  It is amazing how the decorations in a room can really tell you the story of the event you are about to attend.  There are always so many intricate details that make an event one to talk about for many years to come.
What it really comes down to is aweing your guests.  If your guests are intrigued and amazed by what their eyes capture when they walk into an event then you have accomplished your goal.
Have you ever seen an ice sculpture at an event and just looked at it in amazement, wondering how long it took them to carve it, and if it is going to make it  through the whole event without turning into a puddle of mess on that table?  Well let me tell you this, sand doesn't melt!
Does your love story and future involve sand, the beach, ocean, surfing, nature? Let us help you tell your love story.
Or heck, we make DIAMONDS in sand. We make YOU in sand. Your cake. Your dog. Your call. No one will forget your special wedding touch.
Placing a sand sculpture at your event will not only awe your guests but will be able to be enjoyed in it's entirety throughout the event!  Want your event to be the one talked about for years to come?  Contact us to provide your dream sand sculpture quote for your next big event!