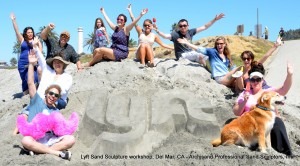 As a business executive, manager and boss you are surely always looking for ways to bond, grow and build the morale of your team.  Throwing a team building event could be just what you are looking for, what you need.  What better way to get your employees working together to complete a task then to have them playing in the sand, with purpose!
Let us help you plan your next company event for team building.  Archisand provides all necessary equipment including shovels, tools, buckets and more!  After a training workshop you will divide into teams and compete in a competition.  Professionals will be there to give tips and encouragement during the event.  Prizes will be given out in a variety of categories at the end of the event!  And the best part… we will provide a private paparazzi team to capture the event!
But this is your day. We will help you build your team events and schedule to fit your needs.
As always these events can take place anytime, anywhere, beach or no beach.  We will bring the sand to you!!
Whether your event is for a corporation, church or other organization, team building with sand is a great way to bond your team and inspire productivity!