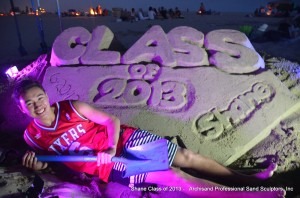 Shane made it though high school with flying colors, now onward to college!
Check out this cool logo sand sculpture we created to help celebrate the day!
Huntington Beach and their fire rings created a cool night to enjoy and celebrate the accomplishment.
Our cool LED lighting helped add to the moment.
Use the link below to view photos from the day.
http://www.flickr.com/photos/archisand1/sets/72157634286801633/