THE SCIENCE IN SCUPLTURE; a place where science and art are demonstrated
What is this thing called sand sculpture? And, how can it possibly apply to a young person's life to enrich their knowledge and experience? Perhaps, these thoughts come to mind because of the misplaced teachings and rushed priorities that are placed on our modern day society in regards to education. Rush through school so that one may rush to the almighty buck – is after all an "All American Truism" or, perhaps, a myth. Sweep the once full table of educational class choices, minimize enough to train to the level of technician and not to the level of graduate, achieved student. In past eras, taking time to acquire a full rounded education was the course to completing one's state of well roundedness. Music, Poetry, Literature, Astronomy, Mathematics, Sciences Politiques, Rhetoric and Art were all considered to be an integral part to a whole completed education. Those things when grouped together are called complement to a whole. Each one in a symbiotic relationship is integral to the whole.  A complement of things is needed to make up a whole. The idea of complement in everyday language is not understood by the general public. Don't believe it? Try using the word complement in regards to a set of things in a sentence to someone and see if they understand how parts are needed to make a whole; a completion. Or, describe to them how a true complement is not present and, therefore, it will not lead to a whole functioning system.
A place where complement exists through the soft and hard sciences is demonstrated in sand sculpture each time a project is brought to completion. In art history, one can look to the time of the Medici family and Michelangelo to see that commission of work and right communication begin the process. To convey the primary message in the final piece of sculpture, drawings are produced. There is discussion with the client on the size of the project. In the artist's mind they are considering the weight distribution of the sand on the surface. This is a place where the hours of mathematics lecture experienced by the student finally have an application outside of the classroom.  This is a place where the science is in the art. 50 tons of sand will not fit on a table top and there may be times when 50 tons of sand will cause a floor to fail over a hollow space below the floor. This would exist in the example of a parking structure beneath a ballroom. The building was built to hold the floor of the ballroom intact without an additional 50 tons of sand. The types of medium to be used must be determined. Some pieces need more supportive structure than others. In other words, knowing that sand at the beach is not silts from the river bottom. And, how these two mediums differ in their required applications is essential.  Knowledge of the piece may be found in literature, poetry, or art in another medium. This assists in bringing the initial concept to final impression for the client.
Throughout the process of sculpting, the sculptor must know proportions and measurements. The artist must know their tools and know how to use them. Levels, measures, geometry and string compass are all used in sand sculpture. All of this requires mathematics and discernment. Pay attention to the details.  Or, the devil will be in the details. Sculptures crack, fall, and fail due to lack of continual assessing of weight, packing, and amounts of water. Work that is not measured will be sloppy. In the end, the work put in will be the quality of work seen in the finished project. As you can see, much is learned and applied in the soft and hard sciences through the work of sand sculpting. Sitting in the classroom is just as important to sand sculpting as taking those things learned and applying them to real work, real life situations – on the sand pile.
Archisand Professional Sand Sculptors, Inc. is the only professional sand sculptors who allow children "in the plot". Our young family of sand sculptors has spent as long as 17 years in the sand pile alongside the masters. Some of our young sculptors started at 4 years of age because they wanted to be around family. And, they were small enough to fit into small places within the sculpture to keep it moist with water spray. As well, they were smart enough to do it too.
Archisand Professional Sand Sculptors, Inc. would like to highlight the accomplishments of these young sand sculptors. It all started when they were small and Archisand has the pictures to prove it. Today, these accomplished sand sculptors have learned to apply what they have been taught in the soft and hard sciences to become talented artists on their own. Let's get started showing off Archisand's younger set of sculptors. You will be surprised to see how the Science in Art has displayed itself through the persistent hard work and learning of these young sculptors. Archisand is proud to have played a part in giving our youthful talented sculptors a place to precept their knowledge in the sand. Together, all these pieces have led to a full complement in the Science of Art and the talent of the young sculptors.  
 Alex LeBon began in the sand pile at the age of 4 years old. His early start was the usual for young talent; water spraying the sculpture to retain moisture content. From here, Alex and his sister, Pamela formed a team and began entering competitions. As the years passed, Alex continued his work and study of sand sculpture. Firstly, under the direction of apprenticeship, but currently Alex is able to have direct supervision and oversight of commissioned work projects. Alex is an accomplished student and Eagle Scout. Alex has proved himself in other ways besides the sand pile. Alex scored a perfect score of 800 on his SAT special subjects test in physics. Alex is presently furthering his knowledge in physics at the oldest engineering school in the U.S. When Alex is on holiday from university, he is quick to jump back into jobs scheduled and waiting for him. In addition, Alex doesn't just sit in the classroom and listen to lecture. He is passionate about taking his knowledge and working with equipment and tools. Alex is a team member on his school's SAE Formula One team. Working with this team has allowed him to work, design, build, plan, and further his teambuilding skills. We know Alex will accomplish his goals in life and Archisand is happy to have helped Alex further his life's experiences.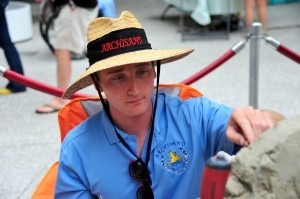 Pamela Schleissner began sand sculpting at the tender age of 7. Her first competition was with her brother Alex at the Surf and Sea Festival in Ventura, CA. Pamela helped as a water sprayer during many Imperial Beach competitions. In 2002, Pamela and her brother formed a team and competed in the Imperial Beach U.S. Open Sand Castle Contest.  Children were to use plastic shovels and buckets. Pamela and Alex were taught in the professional sculpting methods and knew how to use these tools. They stood their artistic ground and proved that kids can use master class tools. We support Pamela and Alex for taking this risk and showing the public their talent and knowledge. Pamela sculpts when she is home on holiday from her university studies.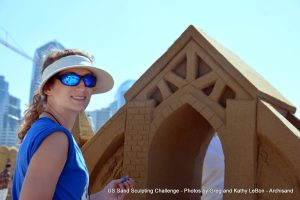 Tetsuya Tanka started sculpting at 8 years old. Water spraying sculptures is the job that most of the kids take on first and this included Tetsuya. Tetsuya has worked side by side with his dad, Ko Tanka. Tetsuya has had the best master class sculpture for a teacher. Patience, discernment, continued assessment, and the highest levels of details were taught to Tetsuya by his father. Tetsuya is an accomplished artist in sand. He understands the scope of the work and carries out his work to completion. His understanding of equipment and tool use is evident. Tetsuya and Brad make a great team. They are able to carry out projects together and have fun doing it. Tetsuya is pursuing a degree in Computer Science at a major university in Orange County. When Tetsuya is on holiday from his studies, he knows that jobs in the sand are waiting for him. Tetsuya also speaks fluent Japanese. All of Tetsuya's combined talents will bring him to an accomplished place in life.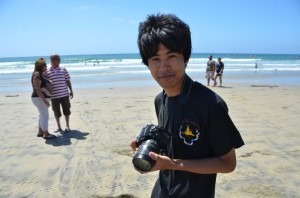 Brad Itnyre started sculpting when he was 10 years old. It all started in Imperial Beach when Archisand divided up team members to have more than one entry in the contest. Brad jumped in and helped on the combined adults and kids team. Brad has been interested in the arts since high school where he participated in plays, drama and acting. Brad has been a longtime friend of Alex since the days of Cub Scouts and Boy Scouts. Brad is an accomplished Eagle Scout and hiker. He loves the outdoors no matter the climate or environment. Brad is a hard worker. Brad has the patience and talent to work with and entertain children at sand sculpting events. His skills in sand sculpting are evident in his work production and his patience to details. Brad studies ceramics at college and enjoys working in the sand with the various tools required to complete sand sculptures. Brad will accomplish much in life because his is willing to put in the hard work and long hours of sand sculpting. Archisand wishes only the best in success to Brad's future.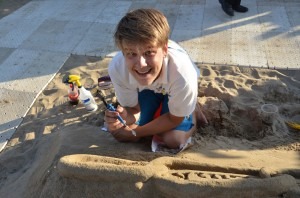 Amy Tanaka started out on the sand pile at the age of 4 years old. She started out by water spraying the sculpture to keep it moist. Throughout the years, her interest in art grew and she began taking drawing and art lessons in Mission Viejo. She has become an accomplished artist in drawing and in sand sculpture. In fact, she pursued her passion of art and applied at the prestigious Orange County School of the Arts, Santa Ana, CA. Her work in drawing and sand sculpture aided in her successful admission. Amy is always eager to work in the sand alongside her master class accomplished father, Ko Tanka.  We know Amy will have much success in her passion due to her drive to get up early every school day to make the commute to OCSA. Best of Luck to everything Amy pursues in life is the wish of fellow Archisand team members.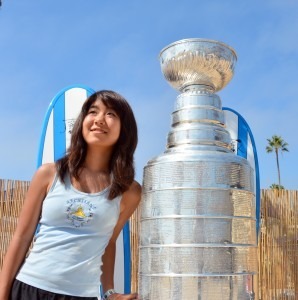 AS you can see, working in sand has helped to bring the Science and Art out in each of these young talented artists. Archisand Professional Sand Sculptors, Inc. is happy to have been a part in each of these students' lives. Working in the sand is where the application of the Science and Art is done. Best Wishes and Much Success to Amy, Pamela, Tetsuya, Alex, and Brad!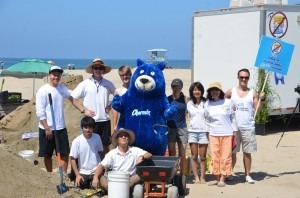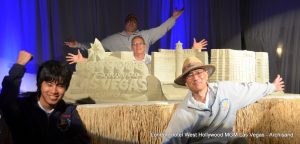 Author:  Kathleen Porter LeBon