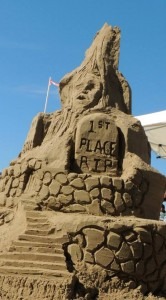 On October 6, 2013 the 52nd Annual Sandcastle Contest was held in Corona del Mar.  This event is put together every year by the Chamber of Commerce.  From young to old to professional sand sculptors like us, there was high participation from the community!
Spooky sand sculptures lined the shore for this years theme "Haunted Castles".  Everything from witches to graveyards decorated the beach, even a few pumpkins and some ironic White House structures noting "now this is scary".
Unfortunately, we were unable to attend this year due to prior commitments, but the event seemed to go off without a hitch and the designs were creative and well done.  We wanted to show recognition to the contest and the participants within the community since we couldn't be there in person.  Hopefully we can make it out next year!  If you want more information on the contest winners and photos of the entrants, click here for their Facebook page.
With summer coming to an end, you may want to pack a bag and head up to Northern California where they are preparing for the 30th Annual Leap Sandcastle Contest at Ocean Beach.   This year's theme "Masterpieces of Sand" is bound to bring out the creativity in the sculptures.  The event was originally scheduled in October but was rescheduled to November 9, 2013.  For more information or to enter the contest click here.
Archisand is excited for all of the upcoming events planned, and will be posting pictures of the upcoming, exciting projects we are working on.
So if you are looking to have your own sandcastle design made for a special event, or market your company keep Archisand in mind for all of your sand needs!