Team building with sand is a great way to boost both the fun and morale of your group or corporate employees. Archisand offers special workshops in sand castle design and building, providing all the necessary equipment needed to turn the members of your group into accomplished sand sculptors. This includes shovels, tools, buckets, and plenty of encouragement.
After the training period, the real fun begins as the rookie sand sculptors divide into teams and square off in rigorous sand castle building competitions.  Archisand's own team of sand sculptors will be on hand to give tips during the construction, judge the event, and present prizes in a variety of categories.
Some of the lucky groups who've tested their mettle in these competitions are:
Starbucks
Experian
Allergan
Nutrilite
As with all our sand castle events, the competitions can take place anywhere, anytime, beach or no beach. We'll bring the sand. And if you want to share this unique experience with family and friends, Archisand's own private paparazzi team will be on hand to snap pictures.
Whether your event is for a corporation, community group, club, church, or any other organization, team building with sand is the perfect way to kick up major fun and inspire morale.
How will groups or events benefit from Corporate Event Sandcastle Services?
| | | |
| --- | --- | --- |
| | | |
| | | |
| | | |
| Rewards of Following through | Basic Structural Design / Architecture | Role Reversal / Dissipation of Rank |
| | | |
| Completion of an "Impossible" Task | Company Giving Back To Employees | Socialization With Co-Workers |
| | | |
| | Feeling of Accomplishment | Coaching and Encouragement |
| | | |
| | | |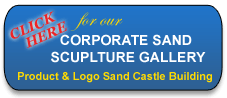 Contact our friendly sand team today.
Get the fun started with your next Corporate Event or Group Team Building Function.