Archisand was founded in 1989 by Greg LeBon. The origins of Archisand actually go back to 1981, when Greg and Rick Foster–another founding member–entered and won the grand prize in their first sand sculpture event at Cannon Beach, Oregon. They went on to the World Championships (then in White Rock, British Columbia) and took first in the "most authentic replica" category. In 1983 Greg moved to Southern California and developed relationships with some of sand sculpture's founding fathers at Sand Sculptors International (SSI). While competing with SSI in the 1980s, Greg won several U.S., International, and world events. Archisand has competed in the U.S. Open Sand Sculpture event every year since 1989. Archisand now competes in the US Sand Sculpting Challenge event on the B St Pier over labor day weekend each year. More recently, Archisand has completed commissions from many of the country's largest companies.
Meet The ARCHISAND Team
Gregory N. LeBon AIA, Founding Member of Archisand
Professional Sandcastle Designs Architect since 1984
Located in Laguna Hills, CA
Greg LeBon has been competing in competitive sand sculpting events since 1981.
Greg's accomplishments and contributions to the sand sculpting community are numerous. Greg's early years in sand sculpting included being a member of the Sand Sculptors International (SSI) Team. This team won many U.S. Open and World Championships in the 1980's. He worked professionally with SSI on a part time basis while continuing to practice Architecture in the State of California. In 1989 Greg founded Archisand. This team has competed extensively on the West Coast of the United States ever since. For 7 of the last 10 years Archisand has taken first lace in the Masters 10 Man division, in the prestigious U.S. Open Sand Sculpture event held each year at Imperial Beach California. This event draws over 350,000 spectators annually. Archisand now competes each year  in the US Sand Sculpting Challenge and 3D art Expo on the B St pier in San Diego.
Greg often contributes his time to volunteer, church and other agencies by conducting workshops on sand sculpting. Greg and the Archisand team donated a sculpture to Extreme Makeover – Home Edition with Ty Pennington, and been featured in Travel Channels "Sand Blasters" Sand sculpting competition.
He frequently competes in National and International Sand sculpting competitions with many awards to show for his efforts. Most of Greg's work in sand sculpture is for corporate clients such as Toyota, Facebook, Google, and YouTube.
Sand Sculpture has taken Greg too many interesting destinations, including trips to Japan, Canada, Mexico and throughout the US. Many of Greg's creations have been crafted on local beaches in Southern California, Including Manhattan, Hermosa, and Huntington Beaches to name a few.
---
Kathy LeBon
Kathy has been associated with Archisand since 1999.
Kathy is an artisan who understands anatomy well. She has an eye for facial proportions and compositions. Recently she has taken on the role of Director of Marketing for Archisand. Since then Archisand bookings have more than doubled. Kathy is also an amazing photographer, capturing some special moments during engagement surprise sand sculpture projects.
Kathy supports the Archisand in many ways, both on and off the beach.
---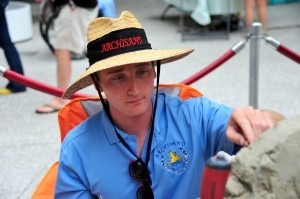 Alex LeBon
Archisand Team Member since 1997
Alex has been sculpting sand since he can remember (Age 4 or 5 yrs old). Alex found ways to contribute to the team at a very young age. Now Alex can say he is a professional, with 2 U.S. Open titles to his credit. He has sculpted projects in the finest hotel properties in California. Alex has been to many of the projects his dad (Greg LeBon) sculpts, including projects for Space X, Hulu, and the Camp Vegas 2010 marketing campaign.  A recent graduate with a degree in Physics from Rensselaer Polytechnic Inst. in Troy New York. He teaches workshops year round in sand sculpting with a full time passion during  the busy summer season.
---
Donnie Dewees
Assoc AIA  – Founding Member of Archisand
Donnie Dewees has been sculpting professionally, since 1985, and has been a member of Team Archisand since its inception. Donnie has competed in Ten different U.S. Open Sand Sculpting Contests including Seven with Archisand including Masters wins in Six of the last nine years. He has also participated in four Guinness Book of World Records projects for the largest Sand Castle, along with Archisand founder, Greg Le Bon.
Donnie has completed sand sculptures all over the United States working for county and state fairs, mall project and art festivals from Southern California to Oregon – and New York to Florida and sculpted full-time professionally in 1992.
Donnie has also traveled internationally having been an invited sculptor, also along with Archisand founder Greg Le Bon, to the Kamaishi Sand Sculpting Festival in Kamaishi, Japan in 1989.
Professionally, Donnie is Principal and Director of Design of DeWees Design located in Orange, California since 2005.
---
Rick Foster
A Founding Member of Archisand – Sculpting Since 1981
Rick is one of the Founding members of Archisand. It was Rick along with Greg LeBon who first started carving sand in the State of Oregon in 1981. Rick has been carving sand ever since. When Rick is not carving he is an executive in the Pet products industry.
Rick has been part of numerous championship teams over 3 decades of sand sculpting. Rick provides a level of commitment, Intensity and leadership any sand sculpting team would welcome.
---

Ko Tanaka
Archisand member since 1993
Ko has been a dedicated Archisand Team mate since 1993. Ko has been a part of most all of Archisand's significant work. Ko has a special talent that grows from his profession as a design Architect licensed in California. Ko has become the Logo king. His precise carving ability lends itself to replicating corporate logos with exacting results. The family has embraced sand sculpture 100% and attends events with all pitching in toward a common goal of excellence.
Tetsuya Tanaka
Tetsuya has been helping his dad Ko out in sand sculpture since the age of 7. He is the family's workhorse; he also has a talent for detail work. After seriously starting sculpting during high school, he can now call himself a sand sculpture professional and a U.S. Open Champion with many jobs and contests under his belt. He currently is studying to become a software engineer at CSU Fullerton.
Amy Tanaka
Amy, The youngest of the Tanaka Family, has shown great progress with her sculpting abilities. Tetsuya and Amy teamed up to win 1st place in  the Semi pro catagory at the prestigious 84th Annual Long Beach Sand Sculpture event, 2016. Amy is a graduate of the Orange County High School of the Arts to study the visual arts, and now attends UC San Diego.
---
---
Ed Nagy
Professional Sand Sculptor Archisand Team Member since 1995
Ed Nagy has been competing in competitive sand sculpting events since 1995.
Ed's accomplishments in sand sculpture have occurred over a decade of working with Archisand. Ed has developed as an artist and team leader providing artistic  and practical problem solving to sand sculpture. Ed has been part of 7 US Open Championship teams. Ed is also a talented Video editor and contributes his time to generating Archisand video for our team mates. Ed is a top performer in sales of fine Commercial Carpets working with Designers and Architects in the flooring  industry when not carving sand.
---
Henry Nagy Bio
Henry is a relatively new member to Archisand. Four years ago he joined Archisand with guns blazing. He quickly learned the art and has become an important part of Archisand's recent successes. When not sculpting, Henry is Solar Photovoltaic Design Consultant, fulfilling people's dreams of a sunshine powered life. Henry's Son John Nagy also contributes to the teams successes.
Henry recently contributed his efforts to carve for a music video for the TV show "How I Met Your Mother", and Bridget's Sexiest Beaches.
---
Dan Audick Bio
Archisand Member since 2008
Dan is a retired NFL professional athlete. In his NFL career, Dan blocked for such Hall of Fame greats as Joe Montana (San Francisco 49ers) and Dan Fouts (San Diego Chargers). An NFL highlight for Dan was protecting Joe's blindside in the 49ers' Super Bowl XVI victory over the Cincinnati Bengals. Dan has drawn upon those NFL experiences to engage in his hobby of photography in order to produce slideshows that document the creations of Team Archisand.
---
Tracey Weiss Bio
Archisand Member since 2006
Tracey first competed with Archisand in 2006 and was part of the "Poker Party" Sculpture that took first Place at the prestigious U.S. Open Sand Castle  completion at Imperial Beach California. Tracey continues to contribute to Archisand's success.  Tracey is a true professional artist. She has dedicated her life to teaching Ceramics and other related art. Her ability to understand space, order and composition makes Tracey a valued team member. Tracey sculpts with many professional sand sculpting teams in addition to Archisand.
Pamela Schleissner
Pamela sculpts sand when she can get away for her studies at UC Santa Cruz. Pamela is currently enrolled at UC Santa Cruz studying for her Doctorate in Chemistry. She obtained her undergrad degree in Chemistry and a degree in Mathematics. She started sculpting sand at the age of 6. Her attention to detail and understanding of the makeup of the sand are her strengths.
Kassandra Carey
Kassandra has been with Archisand since 2015. Kassandra brings an art background to her sand sculpting skills.